In the age of digital content creation, YouTube stands out as a prominent platform that offers substantial financial rewards to its top content creators.
The figures from 2023 offer a fascinating insight into the earnings of the cream of the YouTube crop. Collectively, the top 10 highest-earning YouTubers raked in a staggering $300 million, based on data from established sources such as Business Insider, Celebritynetworth, and Caknowledge.
Breakdown of the Top 10 Earners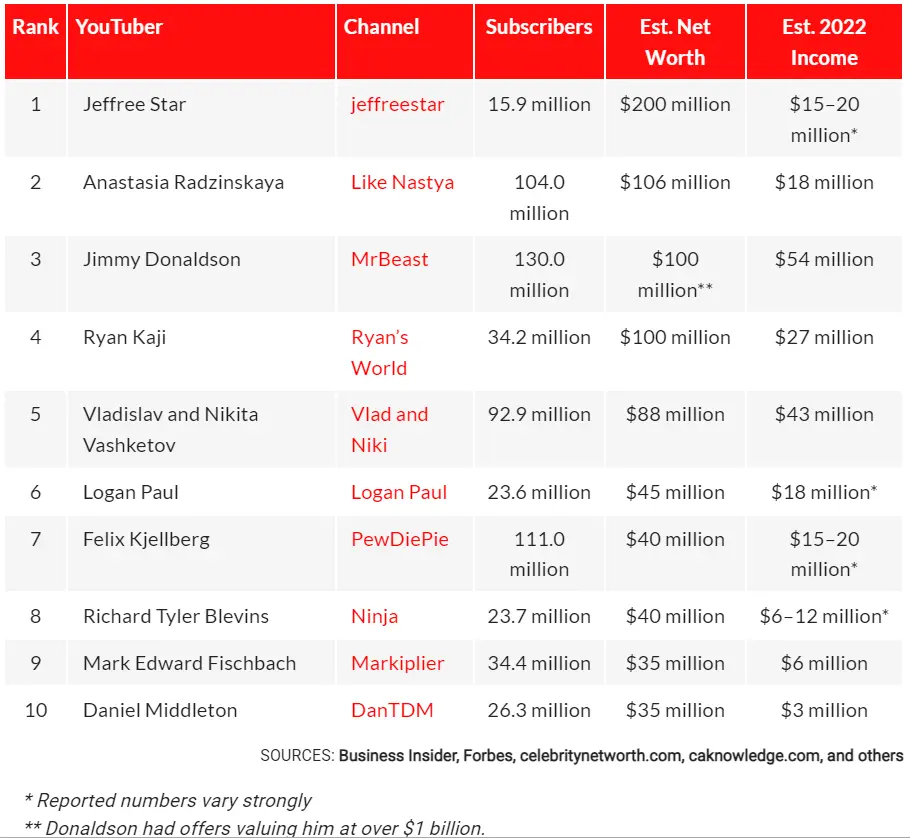 10. DanTDM (Daniel Middleton)
Starting his channel, "TheDiamondMinecraft," in 2012, Middleton has grown his digital empire around a wide variety of gaming content. Games like Roblox, Sonic the Hedgehog, and Pokémon have formed the backbone of his channel, attracting a following of over 28 million subscribers. His financial rewards for these efforts are not modest; his net worth stands at $35 million, with an annual income of $3 million.
9. Markiplier (Mark Edward Fischbach)
With a varied content catalog ranging from horror game playthroughs to reaction videos, Markiplier has earned himself a spot among the YouTube elite. Boasting over 35 million subscribers, Fischbach's channel has led him to an estimated net worth of $35 million, further supplemented by an annual YouTube income of $6 million.
8. Ninja (Richard Tyler Blevins)
Ninja's meteoric rise in the gaming world isn't limited to YouTube. While his channel has over 23 million subscribers, he also enjoys the distinction of being the most-followed streamer on Twitch. His forays into gaming have resulted in an impressive net worth of approximately $40 million, with his annual earnings oscillating between $6 million and $12 million.
7. PewDiePie (Felix Kjellberg)
Possibly one of the most recognizable names in the YouTube universe, PewDiePie, enjoys a staggering 110 million subscribers. Kjellberg initially rose to prominence with his gameplay and reaction videos. Although his annual income in 2023 is estimated to be between $15 million and $20 million, a decline in regular uploads might influence these figures in the future.
6. Logan Paul
Transitioning from Vine, Logan Paul has managed to remain one of the most influential YouTubers. Despite facing controversies, Paul's tenacity has kept him afloat, with ventures extending to professional boxing and acting. Notably, he also runs a successful merchandise company, Maverick Apparel. Estimates suggest a net worth of $45 million in 2023, complemented by an annual income of $18 million.
5. Vlad and Niki
Targeting the children's segment, the Vashketov brothers have made waves since their channel's inception in 2018. With content filled with challenges and toy adventures, their net worth experienced a $43 million boost within a year, courtesy of YouTube ad revenue and brand collaborations, bringing their total to around $88 million.
4. Ryan Kaji
The young prodigy Ryan Kaji epitomizes the power of child-centric content on YouTube. From unboxing toys in 2015 to delivering educational content today, Ryan's World has expanded its horizons. Further sweetening the deal, Ryan's merchandise line is available in major retailers like Target. With an astonishing net worth of $100 million and annual earnings of about $43 million, Ryan's success story is nothing short of inspiring.
3. MrBeast (Jimmy Donaldson)
MrBeast's eclectic mix of content – from pranks and challenges to generous giveaways – has earned him over 200 million followers. Diversified income streams and charitable ventures make estimating his net worth tricky, but current figures suggest it's above $100 million. With a whopping estimated income of $54 million in the previous year, he's on track to reach even higher financial milestones.
2. Like Nastya (Anastasia Radzinskaya)
Catering to toddlers and young children, Like Nastya's content has propelled the channel to 108 million subscribers as of early 2023. From unboxing videos to children's songs, the channel's versatility is evident. Financial estimates hover around a net worth of $106 million, powered by an annual income of $18 million.
1. Jeffree Star
Jeffree Star's journey from MySpace fame to a YouTube magnate is compelling. While his music career in the 2000s didn't take off as expected, his pivot to promoting his cosmetics brand on YouTube proved fruitful. With a staggering net worth exceeding $200 million and an annual YouTube income of up to $20 million, Star leads the pack in earnings and influence.
Conclusion:
The financial accolades of the top 10 YouTubers in 2023 underline the vast potential of the platform. It's a testament to the lucrative opportunities that YouTube offers to its top content creators. However, these figures also serve as a reminder that only a select few manage to achieve such staggering success. For aspirants, the path to YouTube stardom hinges on creating high-quality, engaging content and nurturing a devoted community of subscribers.