Tupac Shakur, or 2Pac, remains an iconic figure in American music and culture. Even though he was tragically gunned down in 1996 at just 25, his profound impact on rap, cinema, and activism hasn't dimmed. By the time of his death, Tupac had already cemented his status as one of the greatest talents of his generation.
When Tupac passed away, what was his net worth?
At his passing, Tupac's wealth was estimated at around $28 million, which, adjusted for inflation, would be close to $105 million today. This sum includes $200,000 he had in cash and an impressive $45 million from his record sales alone.
Tupac ranks among the top-selling artists ever, boasting over 75 million records sold across the globe. During his life, he dropped four studio albums, each clinching platinum status by the RIAA. His hit album 'All Eyez on Me', released the same year he died, racked up sales of over 9 million copies in the U.S.
Beyond his music, Tupac showcased his talent in movies like 'Juice', 'Poetic Justice', and 'Above the Rim'. He was also a fervent advocate for social justice and equality."
Keefe D (Tupac Shakur Killer) Biography, Lifestyle and Net Worth 2023https://t.co/d9CI9pBisA#ChookyXDavido #MondayMorning #MondayMotivation Nobel Victory Monday Chris Jones

— Adabuga (@abukoabuko20) October 2, 2023
Tupac net worth now 2023
Since his death, Tupac's estate has continued to generate revenue from his music sales, merchandise, and licensing deals. In 2007, his estate earned $9 million, which was more than what Eminem or 50 Cent earned that year.
Tupac Shakur's net worth in 2023 is estimated to be $40 million, according to TheRichest. This means that his estate has generated over $30 million in revenue since his death in 1996.
Who inherited Tupac's money?
After Tupac's tragic passing in 1996 at just 25, his mother, Afeni Shakur, became the main heir to his growing estate (According to Express). By then, Tupac had already dropped four studio albums and gained worldwide fame.
In her younger years, Afeni Shakur was deeply involved with the Black Panther movement. She channeled the funds from Tupac's estate to launch Amaru Entertainment, a record label responsible for releasing his posthumous albums and overseeing his intellectual rights. Additionally, she redirected some of the estate's proceeds to philanthropic efforts, notably establishing the Tupac Amaru Shakur Foundation, aimed at assisting disadvantaged youth.
In 2016, Afeni Shakur passed away at 69. Prior to her death, she designated Tom Whalley, an ex-executive from Interscope Records, to oversee Tupac's estate. Under Whalley's management, the legacy continues with releases like the 2017 movie "All Eyez on Me" and the 2021 documentary "Tupac Shakur: Assassination"."
How much money does Tupac make from his music today?
Tupac's tracks remain hot on streaming platforms, with fans consistently downloading his beats and rocking his merchandise. Consequently, his estate pulls in millions annually from record sales, streaming payouts, and licensing agreements.
Streaming Royalties: Daily, millions hit play on Tupac's classics on major platforms like Spotify and Apple Music. Every time they jam to a Tupac hit, his estate cashes in on those streaming royalties.
Licensing Earnings: Hollywood and advertisers are still eager to feature Tupac's anthems. This has pumped significant dollars into the estate. Case in point: the iconic "Changes" soundtracked the "Poetic Justice" movie, and "California Love" got the spotlight in a Beats by Dre commercial.
Posthumous Drops: Since his passing, the estate has rolled out five albums in Tupac's name, with each finding its audience. The latest, "All Eyez on Me" from 2016, even snagged the top spot on the Billboard 200.
Classic Album Reboots: To reignite Tupac's flame for both old and new fans, his estate has polished and re-released classics like "2Pacalypse Now" and "Me Against the World." These refreshed versions keep Tupac's legacy alive and thumping in our speakers."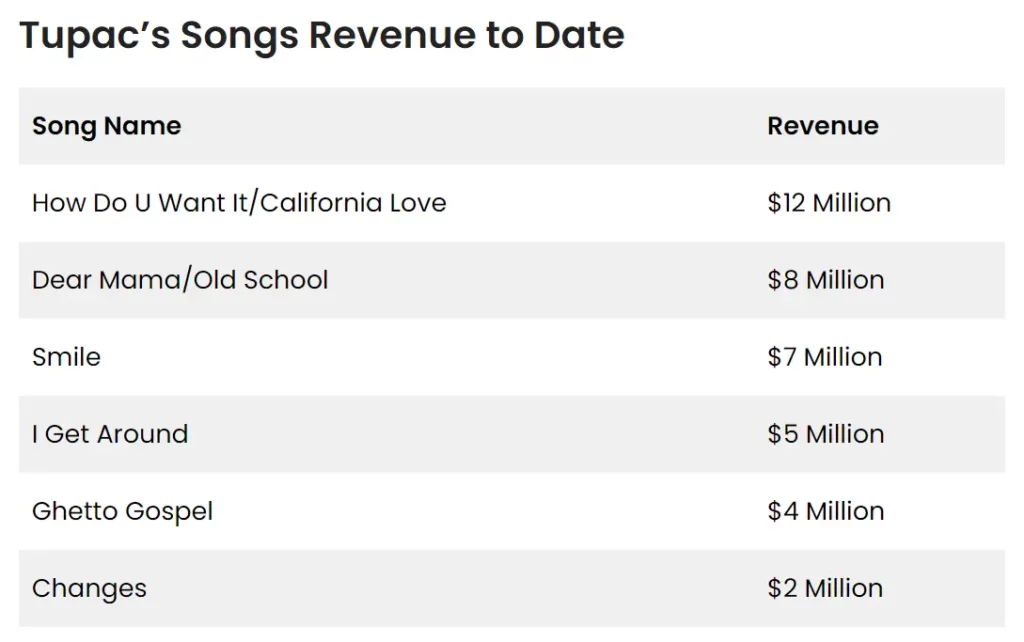 The impact of posthumous album releases on Tupac's net worth
Tupac Shakur's posthumous albums have significantly increased his net worth, making him one of the richest deceased celebrities globally. His debut posthumous album, "The Don Killuminati: The 7 Day Theory," released in 1996, sold over 5 million copies in the US, and subsequent albums also achieved strong sales, many surpassing a million copies. These albums include:
R U Still Down? (Remember Me) (1997)
Until the End of Time (1999)
Better Dayz (2002)
Loyal to the Game (2004)
All Eyez on Me (2016)
Tupac's posthumous album releases not only generate revenue but also keep his music relevant. They create excitement and anticipation among fans, which maintains his popularity and net worth. These albums also introduce his music to a new generation, ensuring that Tupac's legacy endures for years to come.
Discover the late hip-hop icon Tupac Shakur's net worth in 2023, estimated at $40 million, and explore the factors contributing to his legacy. https://t.co/B6jBjs77A9

— HotNewHipHop (@HotNewHipHop) June 5, 2023
Tupac vs. Biggie: Who's Worth More Today?
Tupac Shakur and Biggie Smalls, two iconic and influential rappers, met untimely deaths, yet their musical legacies remain powerful forces in the industry.
Similarities: Both enjoyed tremendous success in their lifetimes and continue to generate significant posthumous income through album sales, streaming royalties, and licensing fees.
Differences: Tupac's current estimated net worth is around $40 million, while Biggie's stood at roughly $10 million at his death. This disparity can be attributed to several factors, including Tupac's more extensive discography and his enduring popularity in the posthumous era.
Net Worth Evolution: Tupac's net worth was a mere $200,000 at his 1996 passing. However, his estate has effectively leveraged the continued success of his music, with posthumous albums like "All Eyez on Me" and "Loyal to the Game" driving substantial growth. His music remains widely streamed and downloaded.
In contrast, Biggie's estimated net worth at the time of his 1997 death was about $10 million. While his net worth has grown in the posthumous period, it hasn't seen the same dramatic increase as Tupac's, mainly due to the disparity in their album releases and the enduring popularity of Tupac's music.
FREQUENTLY ASKED QUESTIONS
Jay-Z is widely considered to be the richest rapper of all time, with an estimated net worth of $1.3 billion.
Tupac's legacy is complex and multifaceted. He is remembered as one of the greatest rappers of all time, but he is also remembered for his activism, his poetry, and his tragic death at a young age. Tupac's music continues to inspire and resonate with people all over the world, and his legacy continues to grow.
Tupac had a significant impact on the world through his music and his activism. His music spoke to the experiences of many young people, and he gave a voice to those who felt marginalized and oppressed. Tupac also used his platform to speak out against social injustice and to promote peace and understanding.
Tupac is one of the most influential rappers of all time. He is credited with helping to popularize gangsta rap and with bringing social and political consciousness to the genre. Tupac's music has also inspired countless other artists, both in hip hop and in other genres.
Tupac's most famous song is likely "Dear Mama," which he wrote for his mother, Afeni Shakur. The song is a moving and personal tribute to a mother who loved and supported her son through thick and thin.
Tupac's best album is a matter of opinion, but many people would say that it is either "All Eyez on Me" or "Me Against the World." Both albums are considered to be classics of hip hop, and they feature some of Tupac's most iconic songs.